Samsung has announced four new budget smartphones that will be available in the third quarter. First one is Samsung Galaxy Ace 4 , the successor to the Galaxy Ace 3 which features a 4-inch screen (800 by 480 pixels), a 1GHz dual-core processor and a 1500 mAh battery. The 4G version of the device has a slightly faster CPU on board (1.2GHz), 1GB of RAM instead of 512MB and 1800 mAh battery. It has also a 5-megapixel camera with flash on the back and a VGA front camera. Galaxy Ace 4 also runs Android 4.4.2 (KitKat) with TouchWiz out of the box. The retail price is 219 euros.
In addition to the Samsung Galaxy Ace 4 also announced the Galaxy Core 2 (179 euros), Young Galaxy 2 (99 euros) and Star Galaxy 2 (price unknown). However, there's no info about Galaxy Star 2 at this point. These devices have modest specs and a low retail price.
Specs of New Samsung Budget smartphones:
Below we have the specifications of all the announced Samsung budget smartphones put together in a list for you. The phones will hit the market by the end of August.
Samsung Galaxy Ace 4:
Android 4.4.2 (kitkat) with TouchWiz
4 inch screen (800 by 480 pixels)
512MB/1GB of RAM, 4GB storage
1GHz / 1.2GHz dual-core processor
5 megapixel camera, VGA front camera
121.4 x 62.9 x 11.0 mm, 130 grams
1500/1800 mAh battery
Samsung Galaxy Core 2: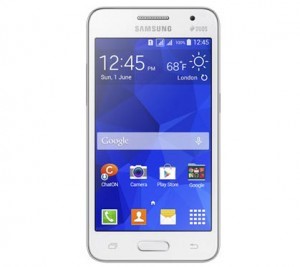 Android 4.4.2 (KitKat) with TouchWiz
4.5 inch screen (800 by 480 pixels)
768MB of RAM, 4GB storage
1.2GHz quad-core processor
5 megapixel camera, VGA front camera
130.3 x 68 x9.8 mm, 138 grams
2000 mAh battery
Samsung Glaxy young 2:
Android 4.4.2 (KitKat) with TouchWiz
3.5 inch screen (480 by 320 pixels)
512MB of RAM, 4GB storage
1GHz single-core processor
3 megapixel camera
109.8 x 59.9 x 11.8 mm, 108 grams
1300 mAh battery