You miss those old good days when you had the option to move applications from you internal storage to SD card? We know people having smartphones with low internal storage really miss that feature. Yesterday we heard that Sony has started rolling out Android 4.4.2 for its Sony Xperia T2 Ultra. What we noticed was all the great features and goodies this new update brought to Sony Xperia T2 Ultra but we missed out on a very handy and great feature.
Yes, we did not notice that with Android 4.4.2 Sony allows its users to move applications to their SD card with great ease. This is indeed a great new feature and is welcomed by every tech savvy person out there. If you head to the application manager you will notice new "Move to SD card" not just that you will also see a separate column showing all those applications which are installed on your memory card.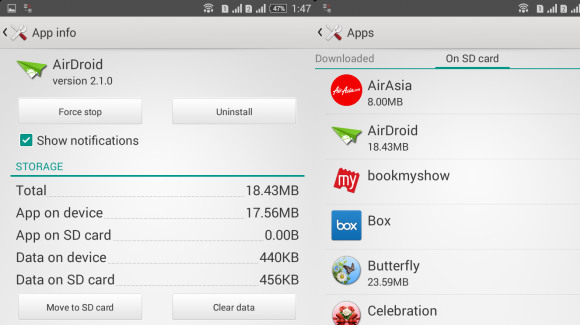 This feature might not interest people with high end smartphones having loads of internal storage but for people with low end and mid range smartphone it is a priceless feature. This new feature gives them the liberty to move all or most of their applications to SD card with just a simple click and that too without rooting the Android device.
At the moment Sony is busy working on Android KitKat updates for Sony Xperia M and Sony Xperia E1. And we believe that Sony will include this great feature in KitKat update for these smartphones as well because these are the phones which badly need this feature.