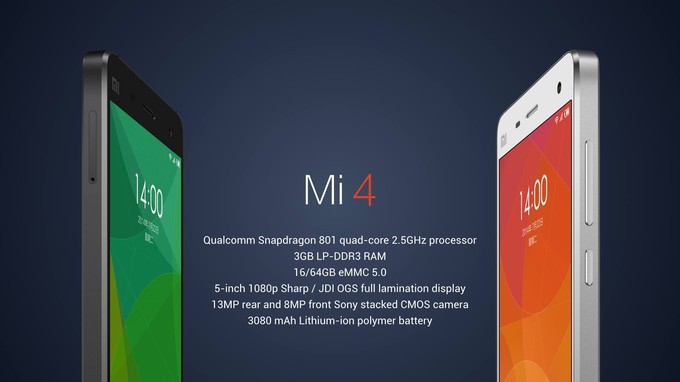 Xiaomi the company which is referred as the Apple of China has officially unveiled it's latest flagship which according to the company is the fastest smartphone till date. The company has really focused on the design of the new Xiaomi Mi 4 and the overall looks of the new smartphone tells that Xiaomi has successfully come out with one of the most beautiful smartphones.
Xiaomi Mi 4 has 1080p 5 inch display, snapdragon 801 processor clocked at 2.5GHz and a beefy 3GB RAM. The best thing about this smartphone is that the company have not jumped to QHD display and sticked with 1080 full HD display. This is in fact a wise decision because QHD displays are only an extra burden on the battery with a very little or nor improvement in the overall display quality.
Xiaomi claims that Xiaomi Mi 4 is the world's fastest smartphone and we would like to see how this beautiful smartphone performs in overall benchmark tests. This is where we will find out if Xiaomi Mi4 is the world's fastest smartphone or not. It has 13 MP primary shooter with Sony's IMX214 sensor. You can get this smartphone with two different storage options. 16GB model is priced at $320 while 64GB model is priced at $400 in China. One thing should be noted here that there is no 32GB version of Xiaomi Mi 4.
These prices will be in effect only in China because this is where it is officially sold. Xiaomi does not have any official retailer in Europe so expect it to be at the higher side of the price. We can also expect similar prices in India because Xiaomi India is already functional in India.
At the moment Xiaomi has build a pretty good reputation in China but company is aiming to expand in other parts of the world as well. Xiaomi India is the first step taken by the company to start selling its smartphone officially in other countries. And we can expect a official retailer for Xiaomi in Europe pretty soon.