Today we saw the latest flagship device of Xiaomi, Xiaomi Mi 4. And we are here once again with a news related to Xiaomi. This time around Xaomi India has set a new record. The first set of Xiamo Mi 3 which was brought in India for sale is sold out within 38 minutes and 50 seconds. This is indeed a great achievement for the company which has just started selling Xiaomi smartphone officially in India.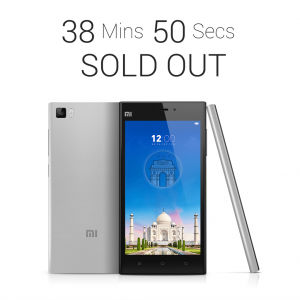 Earlier there was a news that around 100,000 people in India has registered to buy Xiaomi Mi 3. These numbers are indeed huge considering the fact that this is the first time company is officially selling smartphones in India. However, at this moment we are not sure how many units Xiaomi sold in India.
In fact this is the new marketing strategy adapted by Xiaomi. This new marketing strategy is often termed as hunger strategy. In this, a company creates a lot of hype about a certain product and ask customers to register to buy the first batch of the upcoming smartphone. And then few units of smartphones are put on sale which are sold out within few minutes.
At the moment, Xiaomi is only selling 16GB version of Xiaomi Mi 3 in India. The next batch of Xiaomi Mi 3 is expected to come soon. So, if you have not yet registered then you can register for Xiaomi Mi 3 here.
Xiaomi is selling Mi 3 in India for 14,000 INR and considering the specifications this price tag looks pretty decent.