Sony is the only manufacturer who knows how to design a perfect Mini. Just after the huge success of Sony Xperia Z1 Compact we are hearing that Sony is all set to launch another mini version of its flagship. This time around Sony is in news courtesy to leaked images and specifications of Sony Xperia Z3 Compact. We have heard about Sony Xperia Z3 Compact in past and with increasing number of leaks it looks like Xperia Z3 Compact is nothing less than a reality. So, we might expect it to make debut along with its big brother Sony Xperia Z3 at IFA this September.
The upcoming compact version of Sony Xperia Z3 will have 4.6 inch full HD IPS LCD. This makes 0.3 inch larger than the previous mini from Sony. It will have a similar 20.7MP camera but with improved image processing. So, we can expect it to yield better images both in day and low light. The good think about Z3 Compact is that it has very thin bezels which makes it easy to handle. Well, these are just leaks so the final unit might be different from what we are seeing now.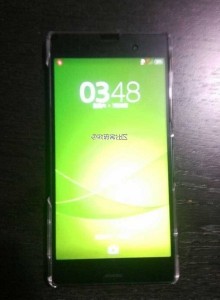 Sony Xperia Z3 Compact will come with Snapdragon 801 processor and 3GB RAM. Well, this looks simply amazing considering the fact it is a mini device. Last month Samsung officially unveiled Samsung Galaxy S5 Mini and if these rumours are to be believed than Sony Xperia Z3 Compact will simply smoke Galaxy S5 mini. Honestly other companies should learn from Sony how a Mini version of a flagship device is designed.
Sony is expected to stick with stereo speakers company introduced with Sony Xperia Z2. So, we might expect it to have a good sound quality and might perform better than Xperia Z2. Well, these are just rumours and at the moment we cannot confirm anything because we do not have any official new but if these rumours are legit then we will have a beast of device in the Mini league of smartphones.
Source: Chinese