It looks like everyone is following the footsteps of Windows Phones User Interface. Just after a flatter UI from Apple, Google announced Android L with flatter UI as well and now Xiaomi has announced its new MIUI 6 with a flatter look. Unexpectedly this flatter looking UI's are getting popular and we are yet to hear what users think about these new look of user interface. Google has not released the Android L for Nexus series so we will have to wait till its official roll out to find out the reaction of people.
MIUI 6 comes with flatter design, improved security and some new great features. The new user interface is still in beta stage and it is not out yet. Devices like Xiaomi Mi 4 and Xiaomi Mi 3 will get the new UI soon with devices from other manufacturers as well. This will certainly change the user experience on Xiaomi smartphones and it is expected that it will be liked by the users.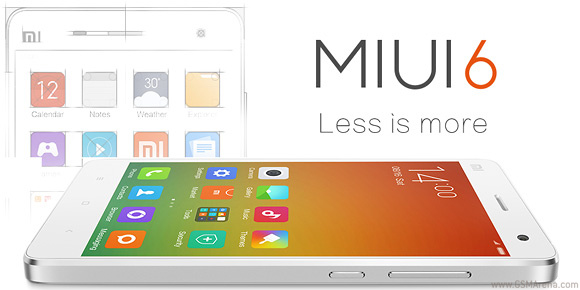 MIUI 6 is simple, attractive and easy to use. Xiaomi has played pretty well with the colors and this is the one area where company has a strong edge over its competitors. According to Xiaomi, users will find it very easy to to use the new user interface. Iit has been developed keeping in mind the ease of use. Hence, this makes it very simple and easy to understand.
As we told you earlier that company has loaded it with some new features; MIUI 6 comes with improved phonebook. The new phonebook has the ability to find the unknown numbers. Moreover, it can distinguish the service numbers and then save them accordingly.
Have patience as Xiaomi will soon start the roll out MIUI 6 and you will be able to enjoy the latest user interface from the company with some great features.
Source: GSMArena