HTC Desire 510 is the new addition to the Desire family. This newly announced smartphone falls in the mid range league of smartphones. With HTC trying its best to generate some profit this quarter HTC Desire 510 can play a very vital role in getting huge sales for the company. HTC announced Desire 510 today and it will make its official appearance in the market by the end of the next month. HTC is following footsteps of Samsung by announcing multiple devices in the calendar. Some of other major devices launched by HTC are HTC E8 and HTC Butterfly 2. Though HTC E8 is available internationally but HTC Butterfly 2 is exclusive for the Asian market and it is expected that this new smartphone will help the company gain some market shares in the Asian market.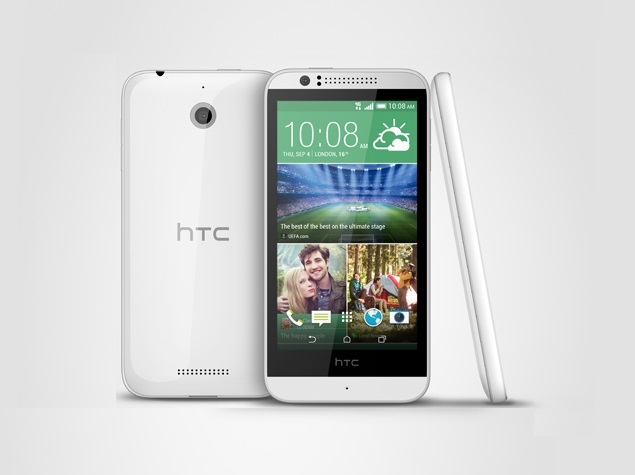 HTC Desire has 4.7 inch display with 480 x 854 resolution. Unfortunately, it does not come with latest sense 6.0 but sense 5.5 is still pretty good to use and is reckoned as one of the best Android launchers. We are glad to see that HTC is providing memory card slot with its smartphones these days. HTC Desire 2510 has 8GB internal storage with microSD support.
It has quadcore processor clocked at 1.2GHz with Cortex A-53 and Adreno 306. This hardware makes it as one of the best mid range smartphone available in the market. WIth its 1GB RAM you will be able to enjoy smooth and lag free experience of latest Android KitKat 4.4.4. As far as the camera department is considered it may not impress you. It has 5MP primary camera with LED flash and VGA front facing camera. So, if you love taking selfies then it will disappoint you.
Let's not forget that HTC Desire 510 comes with LTE support so it will certainly sell like hot cakes in the region where LTE is available provided that HTC price it wisely.
All in all it is a pretty good mid tange smartphone. Looking at the specifications one can say that it will do good but the fate of HTC Desire 510 also depends on the HTC's pricing policy as well. If company prices it wisely then it will definitely do good and might come out as of the best mid range selling device for HTC.