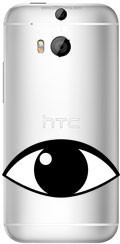 Multiple rumours related to HTC's upcoming smartphone is going around for past few days. According to the latest rumours, the upcoming HTC One M8 Eye with 13 MP Due camera will be officially available by the end of October this year. If rumours are to be believed then this new upcoming smartphone is nothing else that HTC One M8 but with a better 13 MP Duo Camera.
HTC has received a lot of criticism for its below par camera in the flagship device HTC One M8. Company opted for a new Ultra Pixel technology for 2 straight years but instead of seeing improvement in the new technology it failed miserably. Now HTC is trying to get a better hold of market by making its flagship device a perfect smartphone by introducing a camera capable of capturing perfect photos. In search of supremacy, company is working on HTC One M8 Eye which will be officially announced next month and will be available in the markets by the end of next month.
Moreover, we also have some news that the new flagship device will come out with 5.2 inch FHD display. This makes it 0.2 inch larger than the display of One M8. However, we are not sure about it yet but as far as other specifications are considered they will be similar to what we in One M8. But there are rumours suggesting that HTC will upgrade the RAM to 3GB and this will definitely boost up the overall performance of the smartphone.