What do you get when you amalgamate the cutting edge tech and powerful core? A winner certainly. Make way for the new member in the family. The Google Nexus 6! Will it make a dent in the sales of rivals?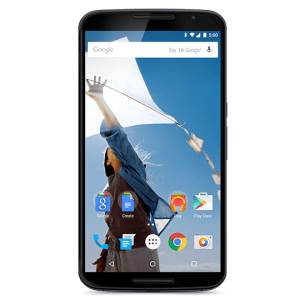 The Google Nexus 6 or the "Motorola" Nexus 6 is a device that has been thought our well by the makers. In the clutter of Smartphones, Google may have produced a winner. Motorola already riding high on popularity & sales of their Moto G and Moto X devices will certainly help synergise the Nexus 6.
Why should you buy the Nexus 6 or why you should avoid it? We are going to find out, right about now. If you open the spec directory of the Google Nexus 6, you would be impressed downright. After all the flagships got to have latest tech.
Get the latest from Google
Running on Android Lolipop, Google has again banked on marketing of the latest updates being available, only to Google devices. Although we did not find any substantial changes in earlier versions of Android, The Lolipop seems to be a new story. The interface looks more exciting and more importantly "useful".
However the screen size of 5.96 inches is quite a mouthful. While the screen size may confuse you into thinking that it's a phablet, the slim design does compliment the big screen size. For some it might be a love hate relationship, which for others who love to watch movies on a bigger scree or are into gaming, the device should be perfect. The other lot would just have to manage with a bigger screen size.
Quad Core 2.7 GHz processor
With Qualcomm Snapdragon 805 & 2.7 GHz processor under the hood, the Nexus 6 should run fast enough to buy you a speeding ticket. Jokes apart, it should be enough to deliver a very smooth user experience. The internal storage or 32 GB and 64GB should be enough to store most of your music & videos. The Adreno 420 is more than capable of handling graphic intensive gaming. So if you are into gaming, you in in for a pleasant surprise.
Display & Camera
The pixel density of 493ppi is the real winner here. The resolution of 1440 x 2560 coupled with 493 ppi on a screen that is almost 6 inches, the display is extremely vibrant and beautiful. If you love to watch your movies on the phone, the Google Nexus 6 is for you. The Camera also surpasses the standards of many other flagships. The 13 megapixel rear camera along with image stabilisation, clicks ultra-sharp clear images with great color reproduction.
The battery of 3220 mAh should be enough to handle the screen size and power the phone for a full day even with moderate to heavy usage. So will all this reciprocate into sales? Well, for now we can expect large number of consumers to flock the shelves for the Nexus 6.