A couple of weeks ago we have seen the images and videos showing the early build of android L or 5.0 for the Samsung galaxy S5. Since a bunch of inconsistencies could be seen throughout the user interface as Samsung was making touch Wiz compatible with the new version of android. It is because of the efforts of Korean company's engineers which have been working hard to give a pretty shape to their product and now we can see newer build android lollipop for Samsung s5 which is actually leaps and bounds much better than the one before Samsung made.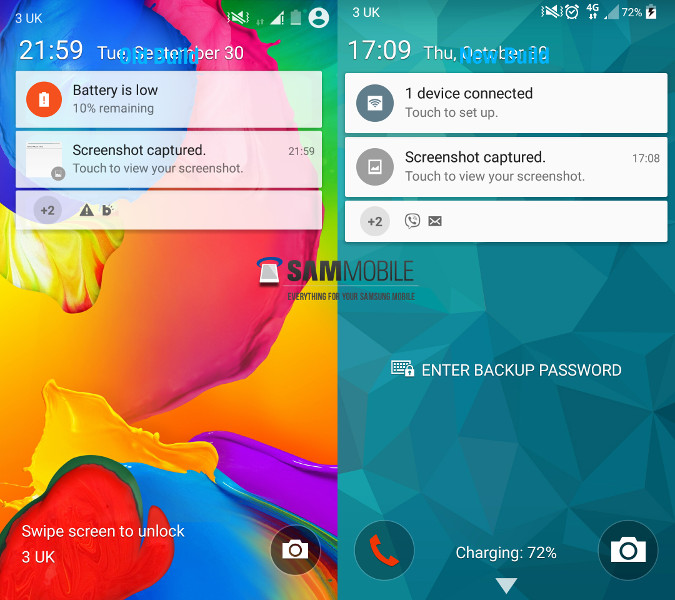 Samsung brought a series of changes and has refined many design bits mostly we can see them in the user interface but at the same time they added some new feature for us to explore. Let's have a quick look and see what is waiting for us.
First we talk about the fingerprint lock screen. It is present in the android lollipop for Samsung S5 like the one we have seen in Samsung galaxy note 4. Yes, they have introduced a new system font which is little thinner than the original one. Animations, much smoother and better than before, plus we see Google search bar in recent menu.
Brightness slider has got a new color which is yellow and the user can easily see the content beneath while changing the brightness as the notification center disappears. Sound settings got rid of "interruptions". Gallery has new filters now; new search box is available in contacts, colored status bars for stock apps with material design.
Android lollipop for Samsung S5 has also kicked out the core green elements in Google's lollipop theme. Now they have been replaced by Samsung's blue. New icon colors with improved user interface can be seen in settings. In order to set the wallpaper there is a new user interface. Power off dialog is now come up with neat spacing between options. Even Samsung improved designs in music, clock and calculator as well just to bring android lollipop for Samsung S5.
Samsung is definitely working hard and their graph of progress has surprised us. It is 100% different with the old one we saw without any doubt. Samsung users are eagerly waiting for this update.
Now the question is how these cool but few features and user interface enhancements can attract the customers?
Source: SamMobile