Just like other smartphone manufacturers Huawei has also jumped in the bandwagon of Android Wears. As per the latest leaks Huawei Watch will be the first Android powered smartwatch from Huawei. We have even seen the advertisement of Huawei Watch. This new round faced Android wear looks a luxurious watch and this is what company is advertising. On the advertisement you can notice a tagline; "Timeless Design. Smart within."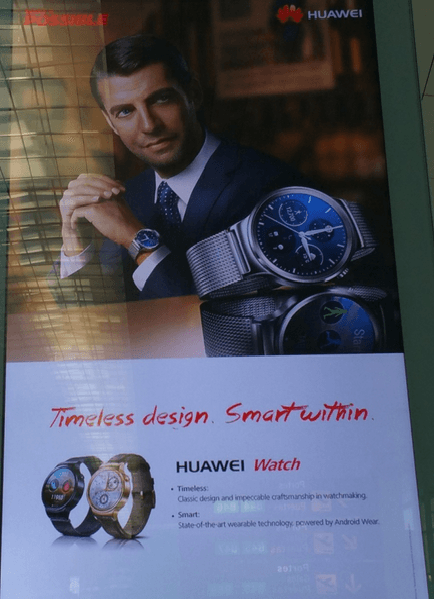 As per the advertisement Huawei Watch is timeless due to its "Classic design and impeccable craftsmanship in watchmaking." And it is smart because of the "State-of-the-art wearable technology, powered by Android Wear."
This is indeed a classic way of advertisement. From what we have seen this new Android wear looks pretty classic and luxurious. From all the smartwatches we have seen till date, this is the one that has impressed a lot when it comes to design and craftsmanship. However, we are eagerly waiting for the official launch and announcement. So, we can test it out and see how it fares among other Android wears.
Lately Huawei has introduced a LTE smartband. So, we assume that Huawei watch will also come out with LTE support. If this is true then it will be a major selling point for the watch along with its classic design.
According to latest news, Huawei Watch will be launched at MWC along with Huawei Ascend P8. We are just a couple of days from the MWC event. We will try our best to bring live stream of the even for our readers from all over the world.