LG G4 the latest flagship device of LG is now available in Pakistan. LG G4 price in Pakistan is quite reasonable compared to its competitors Samsung Galaxy S6 and HTC One M9. Though LG is not officially selling its smartphones in Pakistan but still you an get the latest smartphones from different online stores like iShopping.pk, homeshopping.pk and other. Homeshopping.pk is offering the best LG G4 price in Pakistan. They are offering it at a deal breaking price of 62,000 pkr with all the goodies.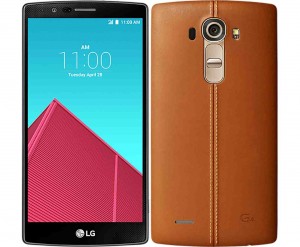 LG G4 has a 5.5 inch QHD display just like its predecessor LG G3. However, as per LG CEO the new smartphone comes with improved brightness and sunlight readability. Unlike LG G3 the all new LG G4 comes with 32GB internal storage option with 3GB RAM. If you are a music lover and love to store a lot of media and images on your smartphone then you can extend the storage with microSD card.
For the selfie lovers there is a 8MP front facing snapper and 16MP primary camera. Company claims that image processing has been improved which results in better, crisp and detailed images. This new smartphone comes with the updated LG UI. However, it is quite similar to LG G3 and those who have used it will not find much differences between the two UI's.
Having said that LG has failed to impress its consumers in the battery department. Though G4 comes with 3000mAh battery but it hardly lasts for one complete day. We believe that battery performance can be improved with few software tweaks and LG will soon roll out a new update which will improve the overall battery life.
So, if you are looking for a new smartphone then LG G4 is something that you should go for. This smartphone offers you the best in every department except for the battery life and expect that LG will address this issue in the upcoming software update. LG G4 price in Pakistan is very reasonable considering the fact it is launched a couple of months back in the international. Homeshopping is offering the best deal right now and within a 3 to 4 weeks this price will fall down.