Google is running Android One smartphone program in selected markets. This program is mainly for emerging markets. The first ever Android One smartphone was Symphony Roar A50 and now Google has launched its Android One smartphone in Pakistan through QMobile; QMobile A1.
QMobile A1 Specifications:
QMobile A1 is no different than other Android One smartphones. Internally QMobile A1 comes with a quad core processor, 1GB RAM, 8GB internal storage with microSD card slot just to make sure that you never run out of the storage. The perk of this Android One program is that this new smartphone will come with the latest Android Lollipop. This means you will not only get the latest Android version to play with but will also get improved battery performance since battery life has been improved manifold in Android Lollipop update.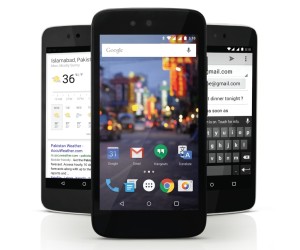 It comes with dual SIM support. We will try to get our hands on this new smartphone as soon as possible. So, we can come up with a detailed QMobile A1 Review for our readers.
It is now officially available in Pakistan. You can get this new smartphone for 11,500 pkr from an authorized retailer under 1 year warranty.
Do share your views about the Android One program and let us know how do you feel about the launch of this new smartphone under Android One program?