Lately Xiaomi is in the news for its newly launched Xiaomi Redmi 2 Prime in India. Xiaomi is one of the fastest growing Chinese smartphone manufacturer in the world and with its ever increasing hold on the Indian market it will soon rule the Indian market leaving behind giants like Samsung and Apple.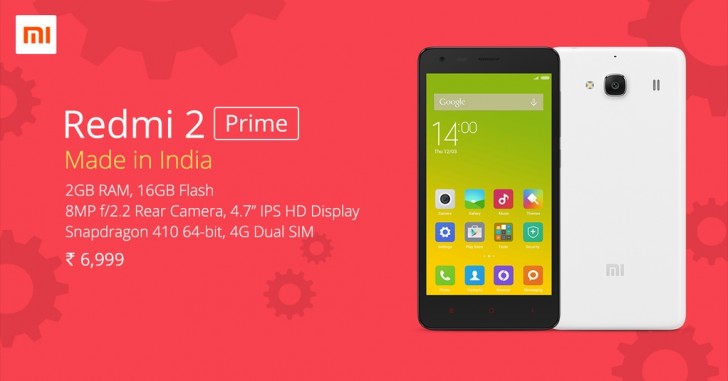 This time around Xiaomi has taken one step forward in the right direction.Company has partnered with Foxconn to start manufacturing its smartphones in the company. Xiaomi Redmi 2 Prime in India is the very first smartphone manufactured under this collaboration. This collaboration is in fact a part of "Make in India" campaign.
Xiaomi with Foxconn has set up smartphone manufacturing plant in Andhra Pradesh. Xiaomi is already working with the collaboration of Foxconn in Brazil and they have manufactured multiple smartphones there but this is the first locally made Xiaomi smartphone in India. This collaboration will not only benefit the company but will also boost up the country's economy.
Redmi 2 Prime Specifications:
Redmi 2 Prime the first ever smartphone manufactured in India is a perfect mid range smartphone. Redmi 2 Prime has 2 GB RAM, 4.7 inch IPS LCD, 8 GB internal storage with micorSDcard support. Talking about the camera department Redmi 2 Prime has 2MP front facing camera and 8MP primary snapper. With this new updated version of Redmi 2 you will get to enjoy the perks of 64 bit snapdragon 410 processor.
Redmi 2 Prime is just like its predecessor Redmi 2. The only notable upgrade is the RAM and processor. Looking at its price tag ($110) we believe that Redmi 2 Prime in India will be a huge success. If you are interested in buying Redmi 2 Prime in India then you can get one easily from Flipkart.