WhatsApp Messenger has always stayed ahead of its competitors when it comes to new features and offering a perfect user experience for its users. Considering the user requirements, WhatsApp for Android has received a plethora of new features which will excite most of you just like us. The latest version of WhatsApp for Android is 2.12.535, and you will find all these new and exciting features in this release. To get the most recent version head to play store and download WhatsApp.
The all new update brings some very exciting features to WhatsApp messenger. Now the application allows you some text formatting. If you out any messages within two asterisk it will appear as a bold text. Similarly, using underscores will give the italic effect. However, we tried dashes with different variations, but we were not able to get the desired effect. May be we can get this effect in the upcoming update of WhatsApp for Android. Please note these new features are only available for Android version now. The company has promised to roll the same features for Whatsapp web application. Interestingly you will also find the same effects in the notifications area. Now the name of the person sending you a message also appears in bold in the notification area.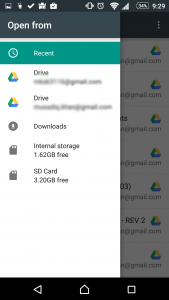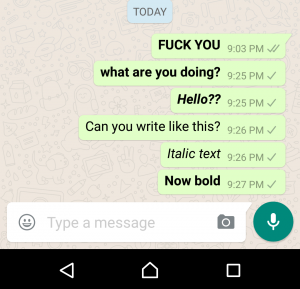 Another new feature introduced in this new WhatsApp update is the ability to attach Google documents. So, if you have some document saved on your google drive, then you can share it with anyone through the new WhatsApp messenger feature.
Apart from this, there's a new back up feature which will allow creating backup of all your WhatsApp messenger messages on Google drive. Yes, this is a very handy feature, but unfortunately, this new WhatsApp for android feature will stop you from using the application as long as it is creating a backup.
These new features are available in the latest version of WhatsApp for Android. So, head to play store and download WhatsApp to avail these new exciting features.