There were certain speculations about the Nokia specific created names like PureView, Asha and others at the time of Nokia acquisition by Microsoft. Few questions were raised about what Microsoft will do with these names. There were even some rumours surrounding that Nokia will keep the Asha and will continue to produce the Asha series under their own name. However, this was less likely to happen as the entire Mobile division of Nokia was acquired by Microsoft.
Finally we have news that Microsoft has decided to keep the 6 Nokia trademarks. The first one is PureView which Nokia used for its camera in high end windows devices. The other one is Asha which is a name of low end Nokia mobile series. Microsoft will also keep the Clear Black display trademark. Nokia used this trademark for the display of its devices. Actually, it is a technology used by Nokia to reduce the reflection on the glass thus making black look blacker. This was one of the features introduced by Nokia which got a lot of appreciation from the fans since it enhanced the quality of displays manifold.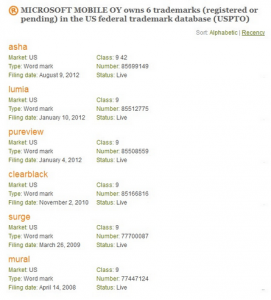 As expected Microsoft will keep the Lumia trademark and will release the future WP8 devices under the Lumia devices. Lumia is a well know Windows Phone brand in the market and Microsoft would not try to experiment things by going for a new name for its windows phone devices. However, Microsoft has also decided to keep 2 more trademarks which are actually Nokia devices name released 5-6 years back. Nokia Surge was a Symbian powered device launched in 2009 followed by the launch of Nokia Mural for AT&T the same area. It is possible that Microsoft might launch new Windows devices named Mural and Surge but for this we will have to wait for some time.
All these Nokia trademarks are now owned by Microsoft Mobile Oy.