Last year we saw Nokia launched the cheapest Windows 8 smartphone; Nokia Lumia 520. And now we have yet another cheap windows phone from Microsoft. Well, it could have been Nokia but Microsoft has already acquired it. So, Microsoft has finally unveiled the successor of Nokia Lumia 520. Lumia 530, the successor of Nokia Lumia 520 is the cheapest Windows Phone available in the market.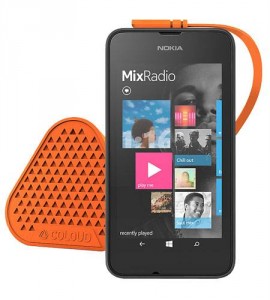 Lumia 530 has 4 inch display with 854 x 480 resolution which also improves the ppi. Thus, Lumia 530 comes with a better outdoor readability. The design of this new device is not as good as we expected and it is a bit too thick. Though it has Sanpdragon 200 processor clocked at 1.2GHz but the RAM is only 512MB which is a huge drawback. This means you will only get few applications from windows store which will run on Lumia 530. We do not want to be harsh but do not try to run the latest applications especially games on your Lumia 530 because they will not run on 512 MB RAM. The internal storage is only 4GB but it has microSD support which is in fact a good point about this device.
It has 5 MP primary camera with no flash and HD video recording support. Lumia 530 does not eve come with front facing camera but considering the fact it costs just around $100 it is the best you can have in this price range. The best thing about this device is that it comes with the latest Windows Phone 8.1 so expect some new features coming your way including Cortana.
All in all, it is not a bad device. It has the latest windows phone operating system and a price tag just around $100 and this make it one of the entry level windows phone available in the market. We will soon cover a detailed Lumia 530 review. So, keep reading SmartphoneTechie blog.