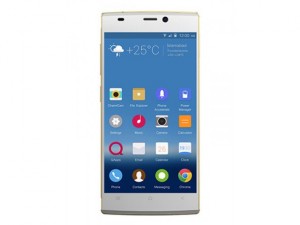 We have already covered a detailed review on QMobile's latest flagship device QMobile Noir Quatro Z5 and today we are here with a review of another QMobile smartphone. You must have seen Sonam Kapoor flaunting a slim and gorgeous QMobile Noir Z6 on your television screens. So, here is a detailed QMobile Noir Z6 review from SmartphoneTechie for its readers.
QMobile is gaining a major portion of mobile market shares in Pakistan. The market which was previously dominated by Nokia is now showing a shift towards QMobile. This is mainly because company has managed to launch smartphones with a decent price tag and some great specifications. QMobile is investing heavily on marketing and it can be seen from the latest QMobile Noir Z6 advertisement where beautiful Sonam Kapoor is flaunting the newly launched QMobile Noir Z6.
Connectivity:
QMobile Noir Z6 offers 3G connectivity and supports WCDMA 900/2100 frequency bands. It offers latest Bluetooth 4.0 with USB 2.0 on the go. However, you do not get NFC with QMobile Noir Z6 and this is quite surprising.
Display and Build Quality:
In our QMobile Noir Z6 review we found out that it is a copy of Gionee Elife E7 and we are sure QMobile must have discussed the terms and conditions with the Gionee before copying the design.
QMobile Noir Z6 comes with a full HD Super Amoled 5.0 inch display protected with a layers of Gorilla Glass 3 layer. Its Super AMOLED display presents close to real life image quality with perfect colours and great details. We were greatly impressed with the quality of the display in QMobile Noir Z6 Review. However, outdoor visibility was not as great as we expected.
QMobile Noir Z6 is reckoned as the slimmest device till date with a measurement of 5.5 mm. It feels great to hold and with a weight of 133g it does not feel heavy to hold.
Processor and Gaming Performance:
We were quite excited to test out MediaTek's true octa core processor performs in our QMobile Noir Z6 Review. It is the first true octa-core processor and is in news these days. We were impressed to see how QMobile Noir Z6 performed in our benchmark results. All thanks to MediaTek for manufacturing a true octa-core processor.
QMobile Noir Z6 has an octacore processor clocked at 1.7GHz with 2GB RAM. As far as gaming performance is considered, you will get the best gaming experience on this slimmest smartphone. It is capable of running every high Android game and we even heard that gameloft will make the best out this true octa-core processor in Modern Combat 5.
It fancies a 16GB internal storage but unfortunately it does not come with microSD card support. This is indeed quite disappointing.
Camera:
It has 13MP primary camera with autofocus. But it failed to impress us in our QMobile Noir Z6 Review. The image quality was not great as it lacked details and even the colors were not quite accurate. Low light performance was just OK with overs saturation of colors especially with flash.
Front facing camera is good for selfies and video calling but we fear that 5MP front snapper might not work for video calling in poor lighting conditions.
Battery Life:
QMobile Noir Z6 comes with 2300mAh battery and it failed to impress us in QMobile Noir Z6 review. It failed to provide enough juice to keep this device running for a day with few hours of browsing and videos. We were amused to see how badly Amigo 2.0 is optimised for battery life. All in all, it failed to impress us in our battery tests.
Conclusion:
QMobile Noir Z6 is definitely more than slim but it fails to impress in camera and battery department. There's no doubt that it is a gorgeous device but if you are hardcore user and want a good battery life than QMobile Noir Z6 is definitely not made for you. We recommend you to go for Sony Xperia SP or QMobile Noir Quatro Z5.