Huawei is not a new name in the smartphone market. Chinese manufacturer is in the business for quite some time now and now it has gained a pretty good reputation at the International arena. Few days back we did an overview of Huawei Ascend G6 and now when we have the device; we are here with our detailed Huawei Ascend G6 review.
Connectivity:
So, let's start our Huawie Ascend G6 review with connectivity and networks this device supports. Since, it is a kind of a mini version of Huawei Ascend P6 therefore it does not come with LTE support however it does come with 3G and supports 900/2100 frequency bands. So, if your network provider offers 3G then you should check if Huawei Ascend G6 supports that frequency band or not. As far as the call quality is considered we were not greatly impressed as it had a lot of noise and we drop the call a couple of times. May be it was due to bad network but we tried the same mobile network on HTC One M8 and we had crystal clear call quality. So, it was something with Huawei Ascend G6 and not with out mobile network.
With Hhuawei Ascend G6 you get Bluetooth 4.0 and microUSB 2.0. We were disappointed not to see NFC in this device.
Display and Build Quality:
It has a 4.5 inch IPS LCD display with 540 x 960 screen resolution. So, if you are expecting something extraordinary from its display then you will end up getting disappointed. It has a very ordinary display with nothing boast about. In our outdoor visibility test it failed to impress us and we were quite disappointed with display in our Huawie Ascend G6 review.
Since it has 4.5 inch display therefore it is feels very easy to handle this device and for us it is perfect for one hand use. If you have small hands even then you will find it comfortable to hold this device and yes do not forget its premium looks that can make anyone to fall for it.
Performance: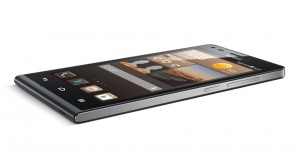 In our Huawei Ascend G6 review we were excited to find out how this device performs in benchmark results. Though it is not a flagship device by any means but still it did pretty well in the benchmark results. It has a quadcore processor clocked at 1.2Ghz with IGB RAM. Well, it is not a big performer and we would term it as an average performer. As far as the internal storage is considered it comes with 4GB internal storage with microSD card.
Camera:
The camera of Huawei Ascend G6 is not the best. It has 8MP primary shooter but it failed to impress us in our Huawei Ascend G6 review. We were disappointed to see poor image quality with lots of noise. The low light photos were disaster. The front facing 5Mp is good for selfies but do not expect it to do wonders for you.
Final Words:
Huawei Ascend G6 is a decent device but it not the best smartphone you can get in mid range. Though it promises a lot but fails to deliver. If you are photography lover and loves to take lot of photos with your phone then this device is not made for you.