We have covered detailed reviews of different QMobile smartphones. There is no doubt QMobile is one of the leading smartphone manufacturer in Pakistan and this company has managed to establish a good reputation in the market. So, here we are once again with our detailed QMobile Noir A8i review.
QMobile Noir A8i Review:
Connectivity:
QMobile Nore A8i is low end smartphone when we looked at its specifications we were bemused to see 3G connectivity. We were surprised to see 3G connectivity in a low end smartphone available for 9,000 pkr. This is indeed a positive point in favour of Noir A8i. We personally feel this will play a very important role in the huge success of this smartphone. Apart from 3G connectivity you get bluetooth, microUSB and WiFi. We were impressed to see strong WiFi connectivity in our QMobile Noir A8i review.
Display and Build Quality: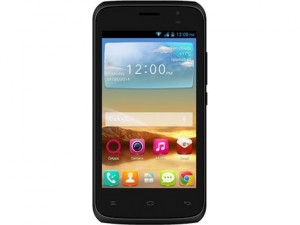 Noir A8i has WVGA 4 inch display. Though the display will not impress you at all but considering the fact that it is just a low end smartphone it has a decent display. Outdoor visibility is pretty bad and we were disappointed but then we realized it is just available for 9,000 pkr so display looks fine when we have a look at the price tag.
With its 4 inch display it feels comfortable and easy to use QMobile Noir A8i. It is just the right smartphone for one hand use. And we feel this is something which will generate some sales for the company.
Performance:
If you are looking for something which offers hardcore performance then this is not the device for you. Let's be honest at this price you will not even get a mid range device. QMobile Noir A8i comes with 1.3Ghz Dual core processor with 512MB RAM. These specifications are not great and this is why we did not run any benchmark test results in our QMobile Noir A8i review. You will certainly face a lot of lag and glitches owing to these low par specifications. And if you love playing games then it will disappoint you badly. It has 4GB internal storage with microSD card support up to 32GB which will suffice all your media requirements.
Camera:
It has 5MP primary camera which fails to impress us in our QMobile Noir A8i review. Images were pretty dull, lacked details and had lot of noise. Though it has LED flash but still low light images are poor. The front camera is VGA which will disappoint you no matter what.
Conclusion:
If you are looking for smartphone just to makes calls, listen to music and send few messages then QMobile A8i is a good device for you. But if you are in search of a device which has good camera and can run some good games and offer good user experience without any lag or glitches then you should stay away from it.