Android which is acknowledged for its open source attribute is a wonderful operating system. A wide range of devices are available from the cheap to the not so cheap. But with all its awesomeness and fantastic attributes, the most powerful aspect of this system is when you get access to the root. If you do not have root access on your device, then chances are pretty high that you have been utilizing just half of its capabilities. With rooting comes the unveiling of the true potential of an Android device. In order to benefit from theultimate performance tweaks, graphic as well as system customization, you need to make use of custom mods, root apps, frameworks, ROMS and Kernels.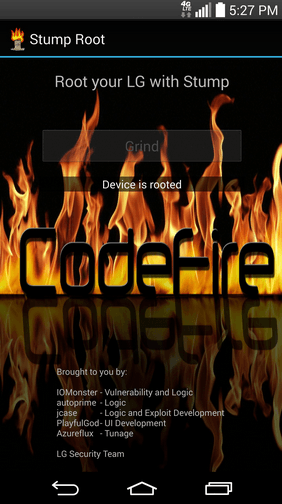 Gone are those days when rooting an Android phone or tablet necessitated the use of a computer. During those days, different tools had to be utilized in order to root different devices. In addition, a number of root-toolkits made use of only the Windows platform. Today though, with the extraordinary custom development activities, methods are not only safer but more defined, and easier-to-use have come into play. As an example Cross-OEM tools such as TowelRoot and FramaRoot don't need the use of a computer. With them, all you need on your device is an installation of an Apk and proceed to tap on a Grind button to root your device.
Another fantastic tool such as an Apk has come into play as a result of the collaboration of jcase, a famous developer and renowned names such as Autopime, IOMonster, and PalfulGod, with the result being a universal Root LG. The Root LG exploit is known as the Stump Root which can be incorporated on a number of tablets and LG phones that were released since 2012.
Root Your LG Device with Stump Root
An easy to use app, the Stump Root has no specific instructions given, however, a description of some of the steps needed to Root LG devices with just a single tap include:
Downloading the Stump Root app and copping it on your device
Opening the File Manager app and installing the Apk file. Be sure to check the "Unknown sources" option under the Settings-Security portion of your device
When the app has been successfully installed, go to the app drawer and open the Stump root, following which, tap of the Grind button. You will be greeted with a melody as rooting is taking place on the device.
Be patient as the Stump root takes effect and let your device reboot when you receive a prompt to do so.
After your phone has booted up, proceed to the Play store where you will find Super SU application. Download and Install it.
In order to verify the root LG access on your device, you need to download the root checker app and run it.
After you have verified the root LG, then you need to proceed to uninstall the Stump Root app.
In case the root checker indicated that your device has been rooted, then you know that you now have proper root LG access on your device.