The iPhone6 has entered the mobile phone market. iPhone 6 is racing against the Samsung Galaxy S5, its main rival, but is there a difference between the two? Is one better than the other or are they simply new smart phones in the market?
A comparison of the two is given below:
Build &Design
When comparing the iPhone 6 vs Samsung Galaxy S5 in terms of build and design, ideally the Galaxy S5 hasn't undertaken any major changes as compared to its predecessor. The differences are so subtle that you can only really notice them when both phones are placed side by side.
You will notice that the corners take on a more square outlook, although very slightly because to the unobservant eye, it is still round in shape. The plastic silver surround now has a ridged texture, much like that of the Galaxy Note 3, while the back panel boasts of a dimpled texture in addition to a matte finish. Another noticeable change is the cover that comes with the microUSB port for dust and water proofing
The iPhone 6 on the other hand does embrace every aspect that it was rumored to have on the leaked dummy mockups. It does come with an aluminum back panel that embraces the front. Its shape takes on more rounded corners and edges while the Apple logo(in stainless steel) is located at the back and measures about 6.8mm in thickness.
Storage
The storage capabilities of the Samsung Galaxy S5 are either 16GB or 32 GB for the onboard storage while the microSD portion does embrace cards up to 128GB.
The iPhone 6 on the other hand has storage capabilities of 16GB, 64GB, and 128GB. Notice that there is no 32GB? Well that is old news now!!
Display
A comparison of the iPhone 6 vs Samsung Galaxy S5 in terms of display is such that the iPhone 6 comes in two size variants, with the regular one sporting a 4.7in IPS LCD Retina HD touch screen, complete with a 1334 x 750 pixel resolution at 325 pixels-per-inch.
The Samsung comes with a slightly larger display as compared to the Galaxy S4. It maintains the Super AMOLED with 1920 x 1080 pixel resolution, hence some sharp image quality can be expected with a pixel density of 430 pixels-per-inch.
Processor and Performance
As per Apple's revelation, the iPhone 6 does run on a second-generation, 64-bit, 20 nanometer architecture. This of course translates to a much faster performance of up to 20% when compared to the iPhone 5s. The graphics performance on the other had is up to 50% faster. The chip on the iPhone 6 has also undertaken a modification in a bid to produce a more improved performance. What this translates to is that even with use for long periods of time, overheating is avoided.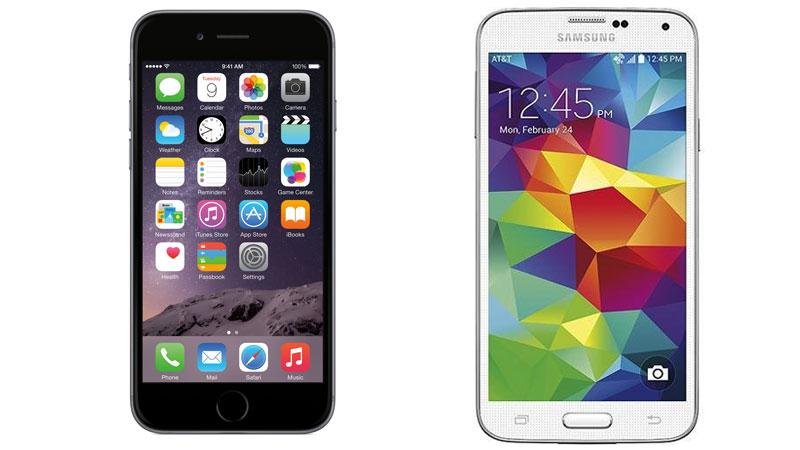 Another addition to the iPhone 6s is the M8 motion co-processor update which is able to measure air pressure by use of a built-in barometer.
Samsung on the other hand went with an updated Adreno 330 GPU in addition to a Qualcomm Snapdragon 801 quad-core processor that clocks at 2.5GHz with 2GB of RAM.
Camera
Let us take a look at the iphone 6 vs Samsung Galaxy S5 with regards to the camera. The iPhone 6 now has an 8MP iSight sensor with 1080p video, f/2.2 aperture, true tone flash as well as digital stabilization.
This new sensor makes use of "focus pixels", which pixels make for a faster autofocus in addition to better noise reduction. The front camera now boasts of an improved face detection complete with asingle-shot HDR.
The Samsung S5 on the other hand now incorporates a number of useful and interesting features that work to give it better appeal. It comes with a "Selective Focus" mode that enables you capture an image before selecting a focal point(which can come later). Its sensor incorporated a 16-megapixel setup with 4K video capability. Also incorporated is a 0.3 second capture speed and HDR Live that gives you a glimpse of how HDR will change your image before you capture it.
Battery
Last but not least let us take a look at the iPhone 6 vs Samsung Galaxy S5 with regards to their batteries. According to Apple, the iPhone 6 will have a much better battery as compared to its predecessor, which battery will have a life of about 14 hours of talk-time on 3G.
The Samsung S5 on the other hand stands powerful at 2,800mAh, complete with an Ultra Power Saving mode which is capable of lasting up to 12 days on a single charge. This is made possible only when all but the most vital functions are not working.