On September 9, 2014 apple finally unveiled its handsets, one model with two sizes, iPhone 6 and iPhone 6 plus. Technically speaking iPhone 6 plus has size approximately 5.5 inch, 7.1 mm thick, 158mm long and 78mm wide as compared to iPhone 6 which has size approximately 4.7 inch, 6.9 mm thick, 138 mm long and 66 mm wide.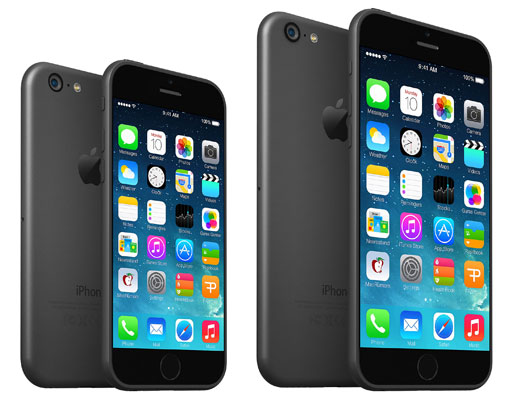 A little comparison
Talking about iPhone 6 plus I can tell you apart from sizes, iPhone 6 plus comes with better display, bigger battery, its one-handed mode, and one thing more, its extra stabilization feature on camera iPhone 6 plus got 1920*1080 resolution with pixel density 401ppi while iPhone 6 got 1334*750 resolution with pixel density 326ppi so technically iPhone 6 plus is certainly better and the rest of the things are the same. Let's take a brief deeper look.
iPhone 6 Plus Shape
As we saw in iPhone 5 and 5s the sharp edges, but now they are gone, we have bubble shaped or round shaped edges, which makes it easier to hold on to.
Processor
Now apple has used A8 processor in iPhone 6 plus with many transistors augmented with M8 motion coprocessor which actually adds barometer support in addition to gyroscope and accelerometer sensors.
Improvements
We have not seen any changes in the control buttons except the power button; I guess apple felt it necessary to introduce a change, so they did change in power button position which is now you can see at the right side of the phone. What's on the left side? We got a volume rocker and mute switch.
Continuing our hardware tour, down the bottom you got 3.5mm headphone jack, lightning connecting port mics/ speakers all that stuff. And the top is fully bare.
iPhone 6 Plus Back
On back we see 8mp camera and a true tone led flash on the top left corner. The camera has an improvement now we can have lock focus and snap shots faster than before. Right in center we see a stainless steel apple's logo and Fcc information farther down.
Another cool thing in iPhone 6 plus is its landscape mode. So now you can work easily on the wide screen with landscape mode. I want to mention here that if you see things big you can easily move into one-handed mode, just tap the home button twice and here you go.