Out of no where Xiaomi has appeared in the smartphone market and has posed a strong threat to companies like Samsung and Apple in China. It is believed that CEO of Xiaomi is inspired BY Steve Jobs. Hence he tries to copy him whenever company holds any official event. Moreover, you will also notice a glimpse of Apple's iPhones look in Xiaomi Mi series smartphones.
Having said that company was able to produce one of the best smartphones of 2014 and now they are aiming higher this time around. After the huge success of Xiaomi Mi4, company is all set to announce the latest flagship Xiaomi Mi5. According to rumours Xiaomi will unveil the new flagship device Mi5 in CES conference which will kick off after few days. However, we are lucky enough to see the first look of Xiaomi Mi5.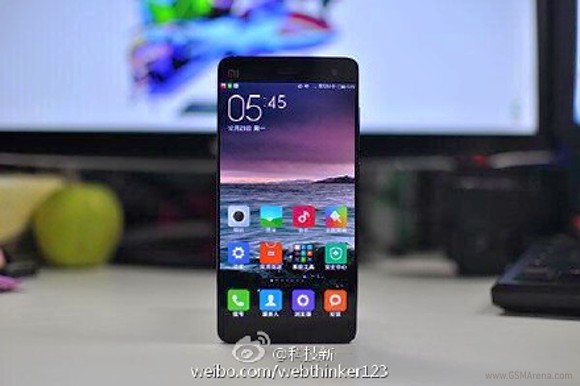 Well we are not sure yet if it is the real look of Xiaomi Mi5 but we are guessing it that the final unit will look more or less the similar. One thing should be noted here Xiaomi Mi5 leaked image shows that device is considerably bigger that the 5 inch Xiamo Mi4. So, we suggest that it would be something around 5.5 inches.
From the images one thing is clear that device will have very thing bezels and will be thinner than Mi4. Since the image is not clear so we cannot say anything about speakers position and sensors. From the above image we are only able to predict about the appearance of Xiaomi Mi5. However, we are hopeful that it will be a much better device that Mi4 considering the fact that we are just 1 day away from 2015 and we have already seen a lot of development in smartphones hardware.
So, we are betting on 3 or 4GB RAM with latest Qualcom processor. You can also expect QHD display since other manufacturers have already launched smartphones with QHD. As of now the best we can do is to predict about this upcoming smartphone because we are not sure about its specification. Let's wait for another week as CES is just around corner.
Source: GSMArena