There are multiple rumors going around related to Samsung Galaxy S6 and Samsung Galaxy S6 Edge. We are all familiar that Sprint is already taking pre-orders for the upcoming Galaxy S6 but now what we have seen from a verified Sprint employee is mind boggling. He posted a picture of Samsung Galaxy S6 and from the text at the bottom right corner we assume that the new Samsung flagship will be launched on 26th Mach.
The new image posted on the web by Sprint employee asks people to pre-register for either Samsung Galaxy S6 or S6 edge and they might end up winning one of the six Galaxy S6 units that are up for grab.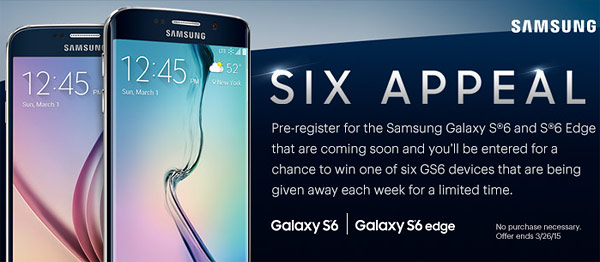 This is indeed tempting but at the same time it hints at the 26th March launch of the Galaxy S6. Apart from this there are other signs as well which hints at the launch of S6 something around 26th March. The AT&T teaser says Spring 2015 and spring starts from 21st March.
So, as of now we are heading towards the right direction and we might witness the official launch pretty soon.
At this time we are not sure about the exact date but we are sure of one thing that we will be right there at the official event covering it for you. We will also try to bring the live stream of the event through Samsung for our readers.