LG G4 is the latest flagship device of LG and the company has followed its tradition of impressing the consumers with the quality and specifications of its flagship device. After dismal performance of Samsung Galaxy S5 it was mandatory for Samsung to come up with a smartphone which can help the company to boost its sales and which has the capability to stand high in the market against other flagship smartphones. Galaxy S6 is just what the doctor ordered.
So, here we are with LG G4 vs Galaxy S6 the battle of two giants. Both these smartphones have their pros and cons but we are interested to see which one comes out as a winner in our LG G4 vs Galaxy S6 competition.
LG G4 vs Galaxy S6:
Display:
Las year LG stole the show with QHD display and this time around LG has stick with the same QHD display but as per the company the overall brightness and sharpness has been improved. On the other Galaxy S6 also comes with QHD display. We are familiar with super amoled technology of Samsung and we also know that it is far better than IPS LCD when it comes to displaying natural colors. So, Galaxy S6 quite conveniently wins the battle.
Camera:
Talking about the camera both companies have never seized to impress with the quality of their cameras. And one can claim without any doubts that LG and Samsung produce best smartphone cameras in the market. In our LG G4 vs Galaxy S6 camera battle it was quite difficult for us to decide who performs better in the camera department. Both of these smartphones come with 16MP primary camera which performs flawlessly in any lighting conditions. However, 8MP front snapper of LG G4 is definitely ahead of 5MP Galaxy S6 front camera and this is the tie breaker for us!
Hardware:
Galaxy S6 comes with homegrown Exynos 7 Octa 7420 which performs slightly better than Qualcomm Snapdragon 808 of LG G4. We ran different benchmark tests and found out that Galaxy S6 was ahead of G4 in most of the tests. However, both these smartphones have 3GB RAM and this makes multitasking flawlessly smooth. You will certainly enjoy multitasking on these smartphones.
Galaxy S6 has 128GB internal storage whereas LG G4 has 32GB internal storage. Lack of microSD card on S6 disappoints us but 128GB is still more than enough even for hardcore media lovers. So, looking at the benchmark results it was evident that S6 is superior than G4 in hardware.
Software:
These smartphones run Android 5.0 Lollipop out of the box with their customized UI. Even though Samsung has improved Touchwiz over the years but still it does not feel as polished as other UI available in the market. LG G4 with its latest LG UX 4.0 steals the show comprehensively.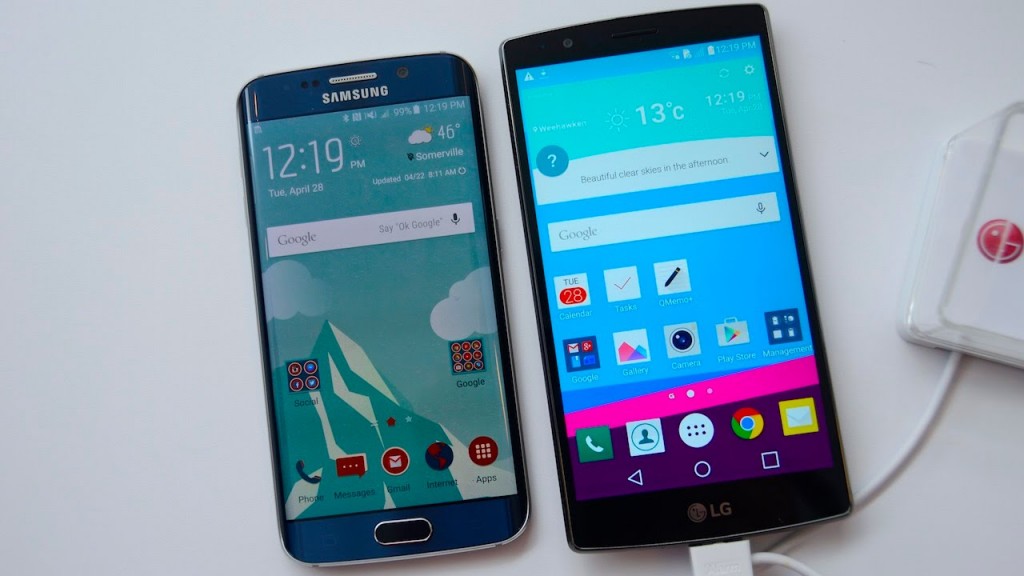 Battery:
We have heard a lot of complaints about low battery performance of LG G4 and our tests depicted the same thing. Even though G4 comes with higher battery capacity but still S6 performed much better in our battery tests and it was quite easy for us to declare S6 as winner in our LG G4 vs Galaxy S6 battery life showdown.
Both these smartphones offer a lot of value. But if you look at our detailed LG G4 vs Galaxy S6 showdown then it would be fair to say that S6 is slightly better than LG G4. But at the end of the day it comes down to your personal preference and usage.