Oppo Pakistan is trying its best to keep up with the competition offered by other smartphone manufacturers in Pakistan. QMobile is one of the largest smartphone manufacturer in Pakistan and holds a good market share of mid range and low end smartphones. Oppo Pakistan is trying its best penetrate in the market and this is why Oppo smartphone price in Pakistan is slightly on the lower side compared to other parts of the world.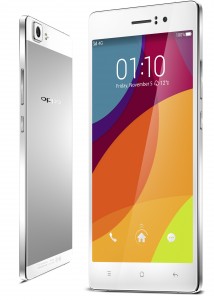 Oppo R5 – A deal Breaker?
Display:
Just like Samsung Oppo has shifted towards AMOLED display instead of the IPS LCD displays. The all new Oppo R5 comes with 5.2 inches 1080p AMOLED display. The overall quality of display is quite impressive. It offers real life colors with every single detail. However, you might feel that sunlight readability could have been better but still it is decent.
Hardware:
Even though Oppo R5 is mid range smartphone but still it offers top notch hardware and will certainly impress you with its multitasking capabilities. It has Qualcomm MSM8939 Snapdragon 615 chipset, Quad-core 1.7 GHz Cortex-A53 & quad-core 1.0 GHz Cortex-A53 CPU supported with all new Adreno 405.
With an impressive 64 bit CPU and 2GB RAM Oppo R5 offers a lag free user experience. Just like some of the other Oppo smartphones Oppo R5 does not come with microSD card support. The 16GB internal storage might be very less for most of the consumers and this is only area where we feel this phone has failed to impress us.
Camera:
Even though Oppo R5 is considered as one of the slimmest smartphones but still this has not effected its overall performance. The 13MP camera on the back is as good as any other 13MP camera. You will love taking images with easy to use camera application. Images taken from the camera were crisp and had natural colors. In low light conditions, this 13MP camera performed decently. However, at times images were saturated.
5MP front snapper is as good as any other selfie camera. All selfie lovers will definitely love taking photos with this amazing front facing camera.
Battery:
Well battery is on the lower side but still Oppo R5 has a very good performance. 2000mAh is not at all a good battery capacity keeping in view the latest trends in the smartphone market. However, a decent Oppo R5 price in Pakistan will definitely make up for this.
Conclusion:
This new smartphone from Oppo Pakistan is definitely a deal breaker. Name any feature and you will find it in Oppo R5. Lack of NFC, microSD card and low battery capacity might be concerns for few but overall Oppo Pakistan has done a pretty decent job by offering almost everything in one of the slimmest smartphones.