One Plus 2 is in the news for quite sometimes and all this has been teasing for people waiting for its official release. All this has created a lot of excitement and we are all waiting for its official unveiling.
One Plus 2 Specifications:
Well as of now detailed specifications of One Plus 2 are not out yet but we still have information about some officially announced specs. According to the official press release, One Plus 2 will come 3300 mAh battery and Snapdragon 810 processor. The said processor is under a lot of criticism because of its overheating issues. However, One Plus claims that One Plus 2 will come out with improved version (2.1) of Snapdragon 810 which does not face any overheating issues. According to company:
Although there have been reports that the 810 runs warmer than its predecessors, we assure you that we have taken all the necessary precautions and beyond to prevent this from occurring in the 2. We worked very closely with Qualcomm's engineers to integrate an improved version of the chipset (v2.1) in the OnePlus 2, and fine-tuned both hardware and software. The 2 will be "cooler than ever".
Lately all the devices that came with Snapdragon 810 are suffering from overheating issues. But here we would like to give benefit of doubt to One Plus. We will have to wait until the official One Plus 2 release date to see how the new phone performs with the newer version of Snapdragon 810.
One Plus 2 will come with 5.7 inch full HD display, 13 MP primary camera and 5 MP front facing camera.
One Plus 2 AnTuTu Results:
Today we are excited as we have received the leaked image of One Plus 2 AnTuTu Results. This leaked image shows 63,424 AnTuTu score which is by far the best score. Even Xiaomi Mi Note Pro was not able to achieve that score.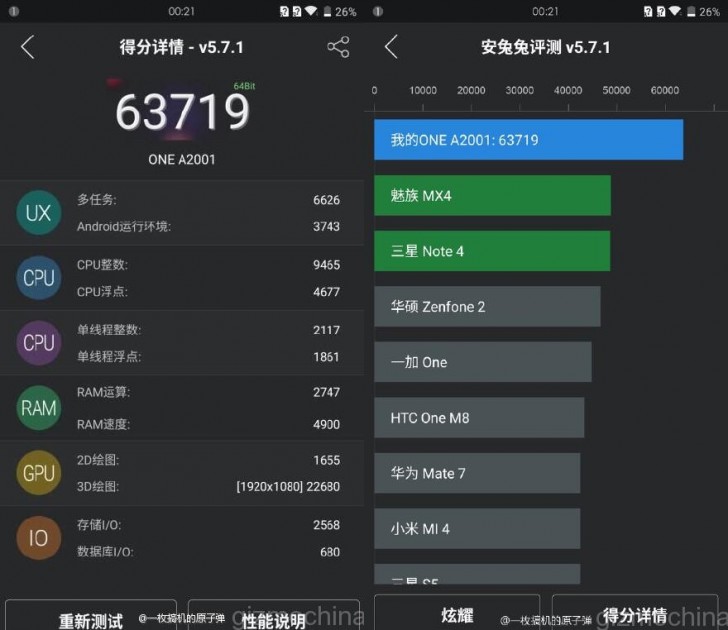 AntuTu benchmark results are not only based on processor's performance but other factors also effect these results. So, we are hoping that On Plus 2 is free from the curse of overheating that Snapdragon 810 is believed to come with. So, keep your fingers crossed and wait for One Plus 2 release date.